Introducing Le Vrai Claude 3.0 by K-Way
Le Vrai Claude 3.0 is a versatile, lightweight, and packable jacket designed to keep you comfortable and stylish in any weather condition. This high-performance rain jacket is the perfect combination of functionality, convenience, and style. Le Vrai Claude 3.0 is designed to adapt to your needs, whether you're venturing into the great outdoors or navigating the urban jungle.
100% waterproof & windproof
Constructed from 100% waterproof and windproof ripstop nylon, Le Vrai Claude 3.0 ensures you stay dry and protected in the face of unexpected weather. The innovative heat-sealed seams lock out moisture, while the ergonomic hood and adjustable drawstrings provide additional defense against the elements. The jacket's breathability ensures optimal comfort, allowing you to stay cool and dry even in the most humid conditions.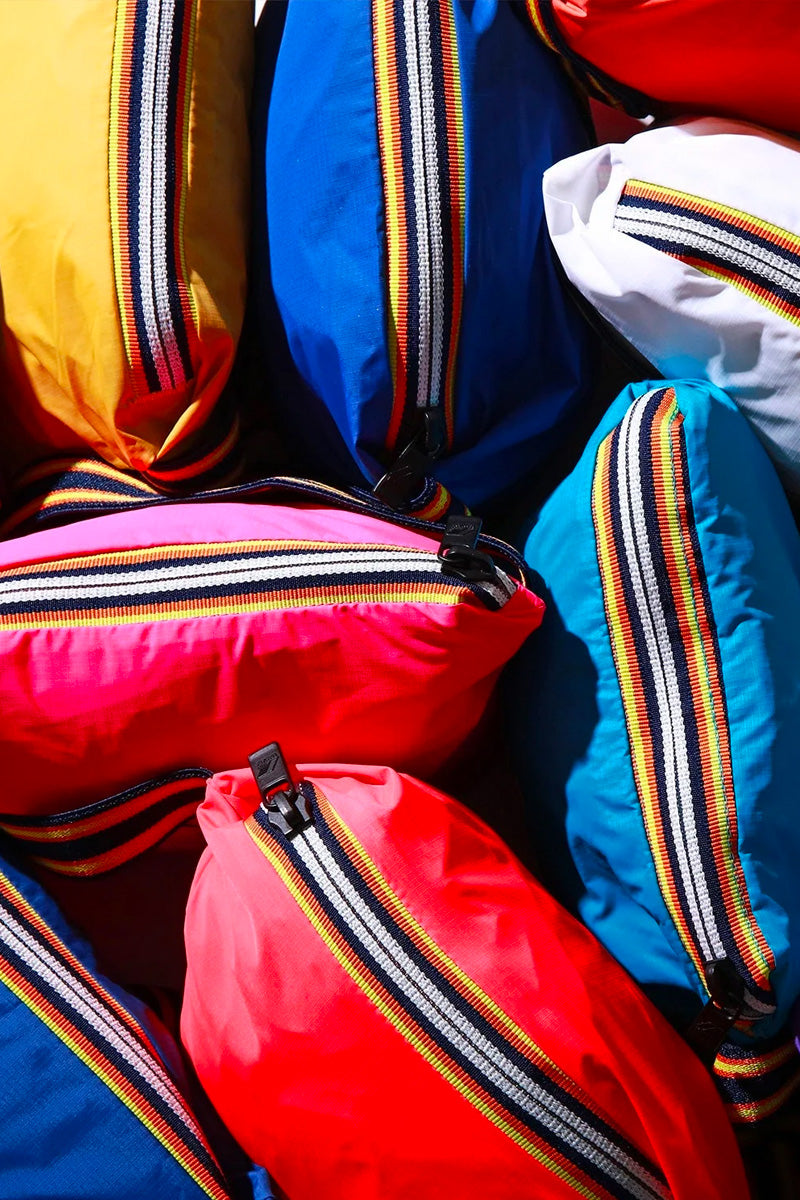 Packable Jacket
One of the standout features of the Le Vrai Claude 3.0 is its packability. This lightweight jacket can be easily folded into its own side pocket, creating a compact, portable package that you can carry with you anywhere. The packable design means you'll never be caught off guard by sudden rain showers or gusty winds – simply unfold and slip on your Le Vrai Claude 3.0, and you're ready for anything.
Practicle Windbreaker
Designed with practicality in mind, the K-Way Le Vrai Claude 3.0 features multiple storage options to keep your essentials close at hand. The jacket includes two zippered side pockets and an inner pocket, allowing you to securely store your phone, wallet, and keys without the need for a separate bag. The full-length zip closure, complete with a storm flap, ensures easy access and added protection from the elements.
Fashionable Nostalgia
But the Le Vrai Claude 3.0 is more than just a functional rain jacket; it's also a fashionable addition to any wardrobe. Available in a variety of vibrant colors and patterns, this unisex jacket can be effortlessly integrated into your personal style. The minimalist design, featuring the iconic K-Way logo, provides a timeless look that can be dressed up or down, making it suitable for any occasion.
Eco-Friendly Option
Le Vrai Amiable Claude is designed to be eco-friendly, made from environmentally responsible materials and processes. K-Way is committed to reducing its environmental impact by using sustainable and recyclable materials in the production of its garments, promoting an eco-conscious approach to fashion without compromising on quality or performance.
A Versatile Protection
This versatile jacket is also ideal for layering, providing the perfect base for your outdoor ensemble. The slim fit and elasticated cuffs and hem allow you to easily wear the Le Vrai Claude 3.0 underneath a heavier coat for extra insulation in colder conditions or over a t-shirt or sweater for a lighter layer during transitional seasons.
The ultimate all-weather companion
In summary, the K-Way Le Vrai Claude 3.0 is the ultimate all-weather companion. Its waterproof and windproof construction, combined with its breathability and packable design, make it an essential addition to any wardrobe. With its variety of colors and patterns, this stylish unisex jacket is perfect for those who want to make a statement while staying protected from the elements. And with its eco-friendly materials and manufacturing processes, you can feel good about investing in a high-quality, sustainable garment that is as kind to the environment as it is to your wardrobe.
Invest in the K-Way Le Vrai Claude 3.0, and experience the perfect fusion of fashion, functionality, and eco-conscious design. Your adventure awaits – and with the Le Vrai Claude 3.0 by your side, you'll be ready to tackle any weather conditions in style.